BARBARA HEPWORTH, DOGS AND ST IVES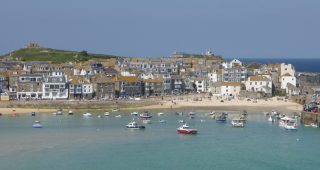 St Ives, Cornwall.  A few things immediately struck me about this Cornish village – it's friendly, buzzy – or maybe that should read busy – with plenty of tourists, both English and foreign and LOTS of dogs everywhere.  St. Ives must be one of the most dog-friendly places in the country.
There are signs welcoming dogs and children on many restaurant and shop windows.  Walk early in the morning and there's barely a person without a dog trotting alongside, or more commonly, a dog running miles away from its "person" down the beach, chasing any seagull which remained still long enough to be seen by a four legged Usain Bolt in hot pursuit!
The Barbara Hepworth Museum
If you're planning on going to St. Ives, an absolute "must do" is the Barbara Hepworth Museum.
 It's right in the heart of the town, just a short walk from the quayside – absolutely no point in driving and trying to park next to the museum – it's up a small street with no parking anywhere near.
The museum is Dame Barbara Hepworth's old studio and it's been very cleverly curated with her studio left as though she has just popped to the local shops and will be back any minute.
It's a very personal insight as to where and how Hepworth worked.  There are works in bronze, stone and wood – both inside and outside.  To sit, peacefully in the garden and be surrounded by Hepworth sculptures is a joy in itself, as well as successfully escaping the hustle and bustle of a very popular coastal tourist spot.
A quick pit stop
We stopped off at the Surf Shack Cafe.  It's not at street level so perhaps doesn't get the same amount of footfall but it's worth the short climb and overlooks the marina!
A few words from Dame Barbara Hepworth in 1954:
"In Sculpture there must be a complete realisation of the structure and quality of the stone or wood which is being carved.  But I do not think that this alone supplies the life and vitality of sculpture. I believe that the understanding of the material and the meaning of the form being carved must be in perfect equilibrium."