SCULPTURES, KEYS AND PIGEONS!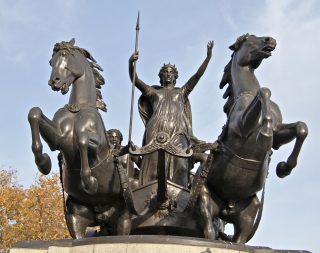 Producing the app, StatueFindr, has brought Sculpture into my daily life.  Having walked the pavements, squares, parks and gardens throughout the City of Westminster in London for over 3 years, I feel I know them almost as well as a London taxi driver learning "The Knowledge".
Each time I discover a new sculpture, whether through online research, newspaper articles, social media or word of mouth, it has to be photographed. This brings its own challenges, depending on where the sculpture's been placed.
The photos on StatueFindr have no people, vehicles or pigeons – it's all about the sculpture – so you can imagine how difficult it is to get a photo of Nelson's Column without any of the aforementioned!  It means a dawn raid and lots of patience – something I had very little of when I started, but have got much better at over time.
One morning I was having a particularly tricky time in trying to get a pigeon to leave its perch on "Diana the Goddess" which you can see here, by Lady Gleichen, in Hyde Park.
 It wouldn't budge and I was getting very frustrated.  A personal trainer and his client came jogging by and stopped because they didn't want to ruin the photo (very thoughtful) and I told them not to worry because I was waiting for the pigeon to move off.
The personal trainer immediately said the trick to get rid of a pigeon is to throw something up in the air above it because the pigeon will think it's a predator swooping.  I was a little sceptical about this, having clapped my hands, shooed etc without even a flicker of acknowledgement from the offending bird… but, I threw up my keys (the only thing I had to hand at 7.00am which wasn't breakable) higher than the height of the pigeon and immediately it flew off and, amazingly, didn't return.
I've done this on many, many occasions since – so for my first blog – and time (or you) will tell if I should continue or not! – this is a public "thank you" to the personal trainer for sharing his pigeon tip with me and saving me lots of pigeon-staring time!