NEW ART CENTRE, TEENAGERS AND ANTHONY CARO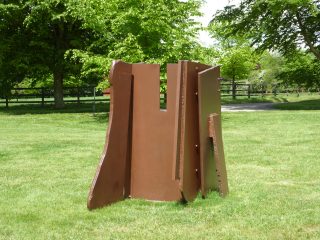 StatueFindr has just been to the New Art Centre Sculpture Park at Roche Court in Wiltshire.  What an amazing set-up.  If you have a love of sculpture, then this is one for your  "must see" list.  There are several reasons to visit.
As soon as you arrive you're spoilt with sculptures – there's over fifty – cleverly and strategically placed in the gardens/grounds, which have beautiful Wiltshire countryside as a backdrop, especially now, when the trees are in full leaf.

The Orangery
When you've finished outside, there's the Orangery to explore. Specifically built to provide an indoor space for temporary exhibitions which allows the works to be viewed with lots of natural light.  Every visit to the New Art Centre offers something interesting and special.  This time was no exception. PAPER LIKE STEEL is an exhibition by the British sculptor, Anthony Caro, and is on until 2nd July.

Artists House
Finally, there's the Artists House.  This  where you can see works of art which have been curated as though they're in someone's home – very clever and an original way to showcase art which has a much more relaxed and intimate feel to it than a gallery/museum.
The Roche Court Educational Trust
Not only is the New Art Centre a gallery selling art, a museum for art lovers to visit (and covet!), it's also the headquarters for the Roche Court Educational Trust, which aims to share Art with an increasing audience. Do you have teenagers?… then perhaps mention ARTiculation to them.
 There are over 4,000 young people from 200 schools taking part in events each year and it's all about gaining knowledge, skills and confidence by looking, thinking and speaking about Art.  What a fantastic way to get the younger generation involved.
The ARTiculation Prize is held annually and involves doing a ten minute presentation to an audience about a work of art, architecture or artefact – it can be anything.  Past judges have included curators, artists and lecturers from the most renowned galleries, museums, universities and institutions – very scary yes, but a great experience and life skill.
That's why we're so impressed by the New Art Centre – it's much, much more than a sculpture park or gallery and in our small way, StatueFindr would like to say "congratulations".
We're awarding the New Art Centre the StatueFindr "Gold Star" for everything they are doing for Sculpture, Education and Art in general at Roche Court.