ROYAL ACADEMY SUMMER EXHIBITIONS - THE ESTABLISHED AND THE NEWCOMERS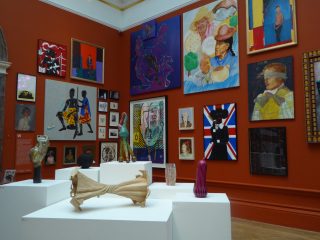 Summer in London – Royal Academy Summer Exhibition, or a walk in the park? Do both!…and you're spoilt for choice if you have any interest in Sculpture.
The Summer Exhibition is on at the Royal Academy in Piccadilly – until the 20th August. What an artistic feat. Initially, the Summer Exhibition Committee have to choose 2,500 works from over 12,000 digital submissions.
From the 2,500 they see in person, around 1,200 are then chosen to be included in the Summer Exhibition. Fourteen large rooms are then carefully curated to show the increasingly varied media available.
What I love about the Summer Exhibition is the enormous scope in material, style and size – whether it's sculpture, paintings, architecture – there's literally something to please everyone.
I may be wrong, but I thought this year there were more sculptures in the exhibition than in the past. Perhaps it was just the way it was curated, but I seemed to bump into a sculpture wherever I looked.
As you approach the entrance to the Royal Academy you'll see WIND SCULPTURE by Yinka Shonibare MBE, RA. It's big, bold, colourful and a perfect juxtaposition to the statue of JOSHUA REYNOLDS.
If it isn't too busy, walking around the Summer Exhibition is a real pleasure. For those of you who use reading glasses, there are catalogues in every room with impressively large print so no need to take out your spectacles – and for the younger generation, the catalogues are a handy confirmation of what's what and where!
A favourite sculpture at the RA Summer Exhibition? – far too difficult to pick one out in isolation. Much easier to name the few I didn't like! – but, it's always subjective, so I leave it to you to make your own mind up.
ROYAL ACADEMY SCHOOLS SHOW
Also on at the Royal Academy is the RA Schools Show – but only until the 2nd July. Much, much smaller in size, only 17 exhibitors. It certainly doesn't get the same fanfare, or footfall, as the Summer Exhibition, but it's interesting to see what the students have gained from their training at one of the most prestigious art schools in the world.
Here you can see several works by Josephine Baker-Heaslip including: NIGHT LADDER, SUN WALL and MOUNTAIN WALL.
… And some that aren't sculpture, three works by Jonathan Kelly: LITHOMANCER, SYMPTOM OF THE UNIVERSE and FAKE HUMBLE.
WALK IN THE PARK
If the weather's beautiful, why would you want to be inside?…. Walk round Hyde Park, Green Park, Regent's Park, St James's Park or in the streets of London and see many wonderful sculptures by internationally renowned sculptors.
As you can see here… James Butler's THE YOUNG MOZART inside at the Summer Exhibition and also MOZART out and about in Pimlico!
Finally,… a different WIND SCULPTURE by Yinka Shonibare in Howick Place.
If you want to know more about the sculptures and sculptors, then just download the StatueFindr App – I know…. it's a plug and we don't do it very often, but you'll be amazed at the amount of information on it.