PIER ARTS CENTRE, ORKNEY AND FERRY PORTS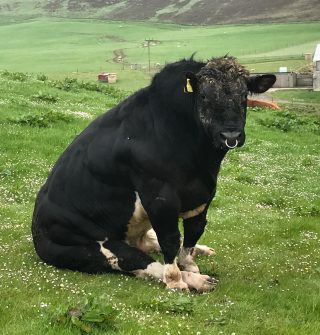 Orkney is a series of islands located off the northern shores of Scotland, full of amazing things to see, both natural and manmade, including some important Churchillian World War II history.
Springtime in Orkney offers endless vistas of green fields filled with ewes and their lambs, cows and their calves and this rather good looking beast – taking a rest after ensuring next year's crop of young!
The coastline is a geologist's heaven and after visits to mesolithic, neolithic and bronzeage settlements and tombs, including evocative names such as; Tomb of the Eagles …Tomb of the Otters…. my knowledge in this field has been expanded enormously – albeit starting from a very low level!
Pier Arts Centre
One wonderful surprise, and a jewel in Orkney's crown, is the Pier Arts Centre at Stromness Ferry Port.  Generally, ferry ports are not beautiful, or somewhere you would want to prolong any visit, but, in this case I urge you to tarry.   Located, as the name suggests, on the quay and facing the fishing boats as they enter and exit the harbour, this museum (which is also now a gallery) opened in 1979. The author, peace activist and philanthropist, Margaret Gardiner donated her private collection "to be held in trust for Orkney".  
Margaret Gardiner was a close friend of Barbara Hepworth and wrote the biography, "Barbara Hepworth: A Memoir" in 1994.  As you can imagine, there are several Hepworth works in the museum and just to whet your sculptural appetite, there's SPHERICAL FORM (which you can see here) outside the entrance.
Sculptors
Additional contemporary works of art have been acquired over the years and today the three floors of exhibition space are filled with both artwork and sculptures by other renowned artists, such as; Edmund de Waal, Eduardo Paolozzi, Kenneth Armitage (shown here) and Eva Rothschild to mention a few.
A reading room filled with art books is located on the top floor and, of course, there's a shop at the entrance/exit.
Current Exhibition
If you're catching a ferry, I would suggest arriving at Stromness much earlier than necessary so you can take time to visit this museum and gallery and not be rushed – it's free and there's well over 100 works to see and to enjoy, including exhibitions by contemporary artists, and on our visit, an exhibition called "Ten Years of Contemporary Collecting" (until December 2017) which highlights the latest additions to the museum's permanent collection.


On your way back from the Pier Arts Gallery you'll pass a statue of the arctic explorer Dr John Rae. This sculpture was put in situ in 2013 and is sculpted by local artist, Ian Scott.  An inscription gives details of Dr Rae's important arctic achievements.