HOUGHTON HALL, GARDENS AND RICHARD LONG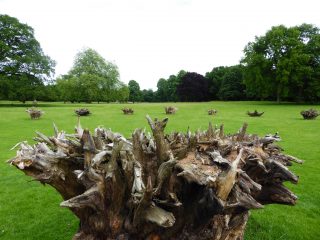 Great Britain is lucky to have a rich collection of public art available for everyone to enjoy anywhere the length and breadth of the country – without having to pay a penny.
So, StatueFindr has been out and about. We've been to the western edges of Britain, to Cornwall and the Outer Hebrides.  We've visited the northern shores of Scotland, to Orkney, back down to Yorkshire and the southern shores.  Now we've gone north-east to Norfolk, all in pursuit of Sculpture.
Richard Long Exhibition
There are, of course, some exhibitions that involve a cost.  One such exhibition is the Richard Long exhibition; "EARTH SKY" currently at Houghton Hall until the 26th October 2017.
Houghton Hall belongs to the Marquess of Cholmondeley and the grounds include an area of parkland which are home to these white fallow deer. If you think you're going to just look at sculpture, you could be in a for a few surprises.
Walled Garden
The formal gardens set within a 5 acre walled garden are very special. We went when the garden wasn't filled with would-be Alan Titchmarshs and were able to wander around at will, enjoying the serenity and beauty of the herbaceous borders in peace.  We were very lucky indeed as you can see!
Sculptures and Exhibitions
Walking through the parkland and grounds you're never quite sure when, and what you'll come across.
There are sculptures to see almost from the moment you arrive.  Venture further afield and you might come across a sculpture as a focal point at the end of a vista, or as a feature to the surrounding landscaping.  You may simply go around a corner and come across a sculpture as a total surprise.
The Richard Long Exhibition, on until the 27th October 2017, is spread throughout the grounds, walled garden, parkland,  as well as in the house itself.
The Stables
Stately homes, by their very nature, are large and expensive to run.  What's wonderful about Houghton Hall is that whether you enjoy sculpture, gardens, architecture, wildlife or just want a pleasant walk in the countryside, there's something for everyone.  Norfolk by Design currently has an exhibition in the Stables until the end of September 2017.
The Stables are also home to the permanent Soldier Museum.  I never thought this could be interesting, but it's the largest private collection of model soldiers and it's difficult not to be impressed by the sheer quantity and detail.
Houghton Hall Café
As a last hurrah to Houghton Hall, pop into the café.  Friendly staff, DELICIOUS home made cakes, which we were lucky enough to be given because it was the end of the day and the cakes would have gone to waste.  So…. a visit to Houghton Hall may involve a cost, but it's worth it!