THE BRITISH LIBRARY, ARCHIVISTS AND A SCULPTURE MYSTERY SOLVED AFTER 50 YEARS!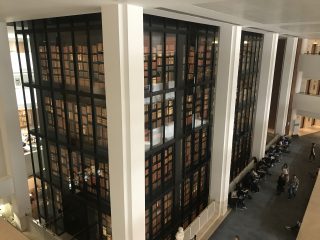 Why, do we almost never make the effort to physically go into a library and search for information the old fashioned way?   With the internet, it's so easy to type in a few words and expect to receive an instant, positive result to any query we might care to think of.  Are libraries redundant? – Absolutely not!
DO YOU RECOGNISE THIS SCULPTURE?
This is a sculpture on the corner of Markham Square and the King's Road in Chelsea, London. It's been in situ for over fifty years, many thousands of people pass it on a daily basis,  but it's been forgotten.  It's become a public work of art that nobody knows anything about, except for the fact it's there.  It has no name and the sculptor is unknown.
StatueFindr is an app covering the sculptures and statues in the City of Westminster.  We want to expand to include the sculptures in Chelsea so this one in Markham Square became a personal quest to find out its history.
Many emails – technology CAN be very helpful! – were sent to all sorts of organisations and societies, including the Chelsea Arts Club, The Chelsea Society, The Markham Square Residents' Association (yes, it really does exist), the Kensington Central Library and the local Council – The Royal Borough of Kensington and Chelsea (RBKC).
We even reached out on Facebook and Twitter.  Lots of people kindly put forward the names of potential sculptors who could have been responsible for the work.  We eventually found out that the building had been owned by Barclays Bank and we received a nugget of information to progress with from an Archivist for Barclays Bank – the bank redeveloped the building adjacent to the sculpture in 1965.
RBKC's Archive Department were able to confirm that a sculpture had been mentioned in correspondence to do with the planning permission – but only in so far as the sculpture didn't need planning permission.
THE BRITISH LIBRARY
Technology failed to solve the mystery. However, there was still the British Library as a final resort.  Have you ever been to the British Library? – if you haven't, it's well worth a visit. It's divided between London, opposite St. Pancras Railway Station on Euston Road and Boston Spa in West Yorkshire.
As you approach the entrance, there's a huge sculpture of Isaac Newton by Eduardo Paolozzi as well as some Antony Gormley sculptures in the forecourt, which I'll leave you to discover for yourselves!
Having followed the British Library procedure to become a "Registered Reader", I put in (online!) my request to see local Chelsea newspapers from the mid 1960's, including the "Chelsea News" and the "Kensington News & West London Times".
I arrived on the allotted day and headed up to the 2nd floor to the Newsroom.  A trolley was bought out with each year's worth of newspapers neatly bound in large (heavy!) leather folders. Many hours later I found what I was looking for!
An article from the 15th April 1966, with an accompanying photograph of the sculptor himself – SUCCESS! – I couldn't stop smiling – a 50+ year old mystery finally solved and mostly thanks to the British Library and its 72million records!
RICHARD BENTLEY CLAUGHTON
So, I can now exclusively reveal that the sculpture is called BRONZE MAN AND EAGLE, sculpted by Richard Bentley Claughton and it was unveiled in April 1966!   A huge "thank you" to the staff of the British Library, who transported 7 large folders of old newspapers from the 1960's from West Yorkshire down to London for my research and resulting pleasure at finding what I was looking for – all for free.  What a fantastic service.
On the British Library website it says:  FOR RESEARCH, INSPIRATION AND ENJOYMENT …… so true!
PS… Look out for our next blog which will tell you more about Richard Claughton and the Barclays Bank manager who commissioned the sculpture.