REGENT'S PARK, SCULPTURE EXHIBITION AND SQUIRRELS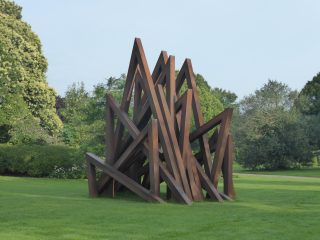 One of the joys of London are the Royal Parks, of which there are five in the City of Westminster:  Regent's Park, Hyde Park, Kensington Gardens, Green Park and St James's Park.   Each park has its own individual landscape character, ambience and events that are hosted throughout the year.
Currently showing in Regent's Park is a FREE outdoor sculpture exhibition called the Frieze Sculpture Park, which ends this weekend, the 8th October.
The Frieze Sculpture Park is a fantastic opportunity to see 23 works by world renowned sculptors – both dead and alive – in a beautiful London parkland setting on the east side of The Broad Walk.
There's easy (paid for) parking in Chester Street which runs between the Inner Circle and the Outer Circle road which surround Regent's Park.  Or, it's a five minute walk from Regent's Park tube station. You can walk around the entire sculpture exhibition in as little as 20 minutes, or, you can take your time and enjoy each sculpture and Regent's Park itself.  The formal gardens on either side of The Broad Walk are stunning at this time of the year – beds overflowing with flowers – it's a riot of colour before your eyes!
If you want to enjoy the peace and tranquility of Regent's Park, then I would suggest going very early in the morning. Virtually the only human company you will have will be the cyclists and runners doing their daily exercise.  My only criticism of all the Royal Parks are the number of squirrels – known generally by those who don't like them – as "tree rats". They're literally everywhere and have absolutely no fear of humans at all – in fact they are so precociously bold that in a standoff between me and the squirrels, they win every time.  It's a great shame because the birdlife in the Royal Parks seems to be diminishing (apart from pigeons, parakeets, magpies and even seagulls) at the expense of the increase in squirrels, which are visible on so many trees, benches and rubbish bins.
Apart from having to share the sculptures with the local wildlife, I would strongly recommend a visit to Regent's Park – not only for the Frieze Sculpture Park, but also for the many beautiful walks within the various formal gardens.  You'll come across several sculptures in Queen Mary's Gardens, St John's Lodge Garden, the Avenue Gardens to mention just a few spots to visit!