"BECOMING HENRY MOORE" EXHIBITION AND SO MUCH MORE!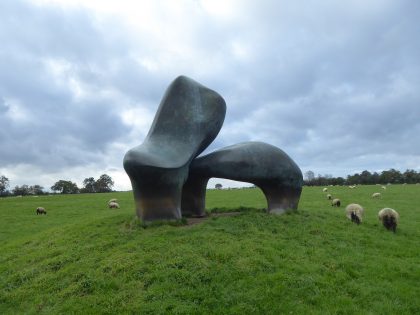 This year's visiting days to Henry Moore's Studios and Gardens will soon be coming to an end, so this may be something to put in the "to do" list for 2018!
StatueFindr was on the way up North and decided to do a detour to visit this iconic British sculptor's home and place of work.  Henry Moore and his wife, Irina, moved to Hoglands in the small village of Perry Green in Hertfordshire in 1940 when their home in London was damaged during the Blitz in World War II.
Before concentrating on any sculptures, a stop off in the local pub, The Hoops Inn, provides a delicious meal in a warm and friendly atmosphere.  This pub is open all day, so no need to worry about arriving in time before "last orders" are issued. The great thing about The Hoops Inn, apart from the extremely comfortable chairs (they really are!) and good food, is that it's only a short walk to the main event – Henry Moore!
There is an entrance fee, but… there's a great deal to see and you can easily spend a couple of hours without realising how the time has disappeared.
There are over twenty sculptures on display outside in the grounds and surrounding fields and walking amongst the sheep who have several Moores as their sculptural "shade" is a wonderful experience, especially when there are very few visitors.
You can wander at will and it feels as though you are Henry Moore's personal guest and are just enjoying a quiet moment outside.
The BECOMING HENRY MOORE exhibition has been beautifully curated and is full of interesting information about Moore's formative years as an artist, specifically covering the years 1914-1930.  There's a lot to absorb with sculptures, drawings, notebooks and information boards strategically placed.
You'll also see sculptures by artists who either inspired or influenced Henry Moore, including: Barbara Hepworth, Eric Gill, August Rodin, Jacob Epstein and John Skeaping, to mention just a few on display within this exhibition.  No photos to show you here because cameras aren't allowed inside the building – which is a shame.
In the Aisled Barn, a 16th century building which Henry Moore bought to Perry Green and had reconstructed in situ in 1981, there are several large tapestries which are based on Moore's original drawings and photographs.
Walking on through the estate, there are several outbuildings where you'll get a feel for how and where Henry Moore worked on different projects.
 The Sculpture Lawn leads up to the Summer House  and then on to Hoglands house itself – where, after the completion of a major restoration in 2007, you can now go in and see many of Moore's personal artefacts.
As is the trend these days for any destination attraction, there is a shop and a café, but there's no hardship in sitting outside with a cup of tea with a view which includes several Henry Moore sculptures!
We're awarding the Henry Moore Studios and Gardens our Gold Star for everything they are doing to help promote Sculpture and the works of Henry Moore in particular.