The V&A Museum - a place to enjoy and not be in a hurry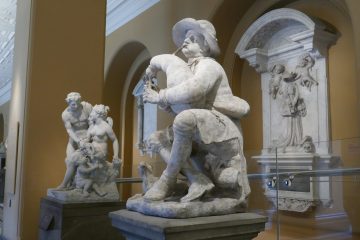 Recently, I had a few spare hours so decided to pop into the Victoria and Albert Museum (V&A) in Knightsbridge.  On its webpage, the V&A describes itself  as 'THE WORLD'S LEADING MUSEUM OF ART AND DESIGN"  Well, of course it would wouldn't it?!… but… having spent nearly three hours quietly ambling around this incredibly impressive building, I think it's worthy of the description.
First of all there's the building itself – full of architectural interest and detail, both inside and out.  Queen Victoria laid the foundation stone in 1899, but time hasn't stood still for this renowned institution.  In 2017 the new Sackler Courtyard was finished.
This space provides several services; an entrance to the V&A off Exhibition Road, an outside arena for temporary exhibitions, a café and a chill out zone to sit in and on!
Inside the V&A, there is SO much to see.
StatueFindr was principally at the V&A for the sculptures and there are a lot. Busts and figurative sculptures are strategically mounted at a height where you can walk around and examine them from every angle.
There's a space dedicated to Auguste Rodin's sculptures, chosen by the sculptor himself and given to the V&A in 1914… and plenty more besides.
Wander away from the Sculpture halls and an exploratory walk will take you to the treasures of the Tapestry Halls, the Whiteley Silver Galleries, the William and Judith Bollinger Gallery (jewellery), the Edwin and Susan Davies Galleries (John Constable) to mention just a small selection of the rooms and what's available to see.
This painting; WATERMEADOWS NEAR SALISBURY by Constable drew my attention and raised a smile because of the following comment:"Constable painted this fresh and atmospheric view in the grounds of the home of his closest friend, John Fisher.  At the Royal Academy the painting was condemned as a 'nasty green thing', and the artist withdrew it."
If you've had your fill of culture and require food of the eating variety – there's plenty of choice.  I won't spoil the surprise by showing you photos of the food halls – but – they are special and definitely worth a visit.
In a nutshell, if you've got a few minutes, or a few hours, you won't be bored at the V&A – it's a beautiful museum, cleverly curated and well worth a visit and even better – it's FREE!