GRADUATION CELEBRATIONS AND THE YORKSHIRE SCULPTURE PARK (YSP) - not to be missed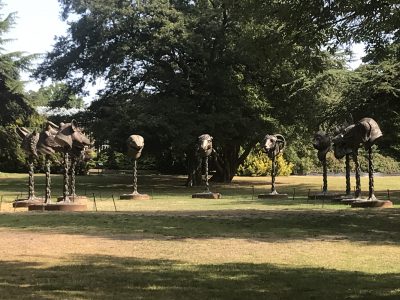 Our App covers over 300 sculptures in the City of Westminster, London… but we're always happy to venture away from the Capital and explore sculptures further afield…. this time it was Newcastle followed by a visit to the Yorkshire Sculpture Park (YSP).
Summertime is exam results time; GCSE's, A'levels and graduations!  Parents have been travelling all over the country to see their offspring graduate from university.  StatueFindr is no exception and we drove up north to celebrate our youngest son's efforts after three years at Newcastle University.
Whilst waiting to be shepherded into the King's Hall for the graduation ceremony to begin, we came across these three sculptures grouped together on campus called GENERATION executed by past Newcastle University student, Joe Hillier.
Newcastle University continues to install new permanent public artworks on campus and CLASP by Sir Antony Gormley (who is also responsible for the ANGEL OF THE NORTH on the outskirts of Newcastle) is due to be installed later this year.
On our journey back down from the celebrations we popped into the Yorkshire Sculpture Park (YSP).  Well, that was our intention… you might plan to be in the YSP for a certain amount of time, but I guarantee you'll spend longer.  For anyone with an interest in Sculpture, YSP should be on your top ten bucket list for multiple visits!
There's a huge diversity of sculptures set within 500 acres of unspoilt countryside on the Bretton Estate – perfect if you've got a dog because dogs are welcome (on a lead).  Wander down from the carpark (the only thing you have to pay for – the sculptures are free) and into the parkland and you will come across sculpture after sculpture as you meander wherever your feet take you.
One of the first sculptures we came across was this one – TWO LARGE FORMS by Henry Moore, where sheep were using the sculpture as welcome respite from the heat of the sun.
There are several Henry Moore sculptures – all the more dramatic with the expanse of space and varying perspectives from which to view them – either from a distance or at a finger's touch.  Around every corner there seems to be yet another sculpture as we made our way through open fields, little glades, woodlands and alongside the lake.
We stopped and happily sat to have a few quiet moments out of the sun watching the cotton wool clouds slowly meander across  DEER SHELTER SKYSPACE by American artist, James Turrell, which provided both tranquility and some welcome coolness in the heat of the morning.
A few of the sculptures we came across are shown here:
A highlight was Ai Weiwei's ZODIAC – stopping off at the YSP until June 2019, as part of a world wide tour for this 12 piece sculpture.
As we made our way around YSP we came across schoolchildren on an outing sat beside OCTOPUS, paper and pencils in hand – what a fantastic way to bring an art class to life!
Slightly suffering from the heat and needing some food fuel, we went into the YSP café – what a joy!… proper home cooked food absolutely delicious, friendly staff and with the added unique ingredient of being able to overlook stunning Yorkshire countryside.
As we left YSP and made our way back towards the motorway, we saw  MOLECULE MAN 1+1+1 by Jonathan Borofsky as our last sculptural memory at the gates.  Despite no further graduations on the horizon we agreed that YSP is worth a future visit as a stand alone event.
StatueFindr is awarding YSP our GOLD STAR because each and every time we've been to YSP we're never disappointed – there's always something different to see, set within stunning countryside. It's a very special place for sculpture and shouldn't be missed.