SCULPTURE TRAILS AND A VISIT TO BLACKPOOL!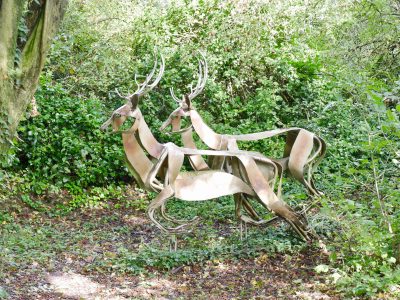 Government, Parish Councils, Planning Departments, Companies and people in general are all becoming aware of the potential advantages of having a sculpture, or Sculpture Trails, in the public arena for everyone to enjoy and potentially interact. According to Gateshead Council, 33 million people EVERY YEAR see the Angel of the North, unveiled in 1998 and created by the sculptor Antony Gormley – a clear demonstration of the positive impact a sculpture can have on a local community.

The Angel of the North is a monumental sculpture, specifically located to be a regional landmark and therefore clearly visible in the wider landscape from many viewpoints and distances and as such has gained international notariety. However, smaller scale sculpture projects can also have a major impact on local communities even if nationally they remain unrecognised.

Ribble Valley Borough Council in Lancashire, created the Clitheroe Sculpture Trail back in 1993, the first of its kind in the county (now there are at least two other Sculpture Trails in Lancashire).

Today, the Clitheroe Sculpture Trail consists of a substantial number of permanent works which have been strategically placed in Brungerley Park and Cross Hill Quarry, which ceased its quarrying activities in the early 1900's and is now a local nature reserve and favourite dog-walking area located on the outskirts of Clitheroe.

The Clitheroe Sculpture Trail has made art accessible to all by providing a free cultural activity. It encourages not only the local community, but visitors to the area, including StatueFindr, to explore the outdoors.

If we hadn't been specifically seeking out the artworks on the sculpture trail, we would have missed out on seeing this stunning view (even on a dull, grey day!) overlooking the Ribble River towards the Forest of Bowland and surrounding countryside. Whether the sculptures are liked, disliked or leave one unmoved, they add an extra dimension and interest to a walk.
How many Sculpture Trails are there are in the UK? StatueFindr is sure each and every one has had a positive impact in some way or another. We're looking forward to seeing them all, so if you know of any Sculpture Trails in your county, please get in touch – via our website/Facebook/Twitter etc!
Clitheroe is only a short drive away from Blackpool, so StatueFindr travelled to the coast to see yet another monumental sculpture – and we're not talking about Blackpool Tower!.. but GRASS DUNES by Eva MacNamara, installed in 2011. These kinetic sculptures are over 30metres tall and sway in the coastal breeze – but on our visit, it was howling a near hurricane force gale, so the sculptures were not really swaying but were being blown over at an acute bend from the force of the wind.
StatueFindr is all about sculpture, but we can't mention Blackpool Promenade without including THE COMEDY CARPET by Gordon Young. This is an absolute must for anyone visiting Blackpool. Over 1000 comedians and comedy writers are represented on a massive 2,200
m² "carpet" of artwork located beneath your feet on the Promenade, showing jokes, songs, catchphrases and scripts covering many decades of comedy. It's clever, funny and a public artwork that will genuinely hold your attention.
All that walking, braced against a howling gale created a hunger, so we refuelled at the Yorkshire Fisheries (we know, very confusing calling it Yorkshire in Lancashire?!?) for a delicious fish and chips! A perfect end to our visit to Blackpool.